Welcome to ASBPE
ASBPE is the professional association for full-time and freelance editors, writers, art directors, and designers employed in the business, trade, and specialty press. If you work as a journalist in the B2B sector, ASBPE membership is a "must" to gain access to the targeted training and networking that are so vital to your success in the dynamic world of specialized publications — plus you'll qualify for the prestigious Azbee Awards of Excellence.
Benefits of Joining ASBPE
Membership in ASBPE is available to qualifying B2B journalists and other professionals and provides a host of benefits to members.
ASBPE
Is Your Voice
Our central focus is helping our members develop their editorial, design and management skills, enhance their performance and prepare them to play larger roles in their publishing organizations. No other journalism association can match ASBPE's expertise and engagement in the B2B sector.
Network
With Your Peers
Our national conference is a terrific opportunity to network with the profession's best and brightest. Our local chapters bring you together year-round. Learn how to deal with the management, technical, and financial issues that are shaping your future as a professional and the future of your publication.
Azbee Awards
of Excellence
Our annual Azbee Awards competition is the largest and most competitive in B2B publishing. The Society recognizes excellence — both in print and digital platforms — in more than 50 categories. Members are eligible for consideration and can enter the competition at a discounted rate.
ASBPE News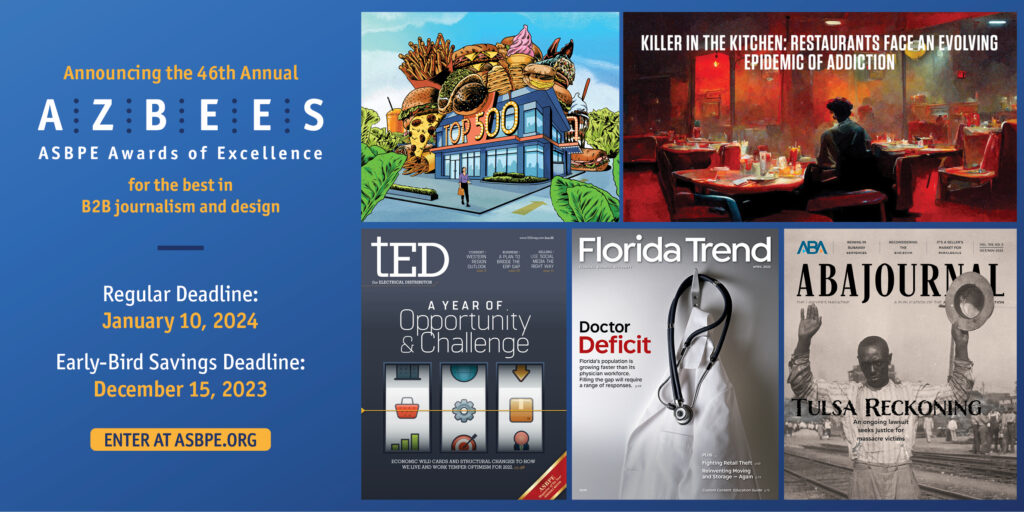 ASBPE's Awards Committee announces the 2024 Azbee Awards launch date, deadlines and category updates. … read more
From The ASBPE Blog
Panelists in ASBPE's Nov. 9 webinar, "Artificial Intelligence in the Newsroom," shared tips for how to use AI to save time, generate ideas, increase engagement and expand your creative options. … read more

Competing in the Azbee Awards drives creativity, innovation and excellence. Use our email template to push for recognition for your team. … read more